Brief History of the Bourne Ottoman
The Bourne ottoman can typically be found in grand stately homes as statement piece furniture or a focal point in many drawing room and reception interiors. It is also seen as a type of public seating, often featured in a hotel lobby, art gallery and high-end retail stores such as jewellers and fashion stores. It has been suggested that this style of ottoman also played a significant role in Victorian courting rituals, allowing couples to sit next to each other without sitting 'next' to each other. This multi-sectional seat is also recognised as a forerunner to today's sectional sofas.
New Product Insight
We have developed three different styles of Bourne Ottoman to add to our furniture range. Three very different designs which will suit a range of senior living and care home environments. Ranging from a sleek contemporary style, through to a versatile 'hybrid' design and an elegant traditional piece. Each design can be specified for different areas giving designers the opportunity to select a statement piece whatever their style.
Senior Living Interiors
Lobbies and reception areas are great places for residents to relax and watch the world go by. Residents can enjoy a little fresh air and take in their surroundings from this ideal vantage point. Position under a feature ceiling light for added drama and accentuate the piece with a clever flooring design.
Corridor intersections are a great opportunity to enhance a large open area. Adding a circular ottoman to a corridor crossroad section can give residents an ideal resting place. Add a statement vase or plant to the centre section to complete the look.
Positioned in a waiting area in a hair salon or spa waiting area, a Bourne Ottoman will add a touch of glamour and sense of occasion and anticipation to a visit to a spa or salon.
Introducing the Ashbourne
The Ashbourne Borne Ottoman is a statement piece of furniture which will enhance the more traditional interior. The Ashbourne showcases our traditional craftsmanship and attention to detail, Features include deep buttoning, intricate pleating, tailored piping and turned legs.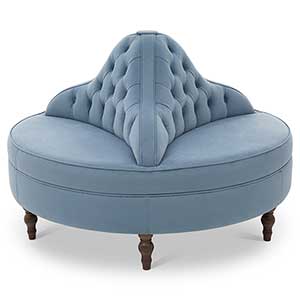 Introducing the Thorpe
The Thorpe Bourne Ottoman is a versatile 'hybrid' approach which will suit both traditional and contemporary interiors.  The centre section is available to two different designs, deep buttoned or fluted with a choice of leg to complement the chosen style. A great focal point for a range of areas.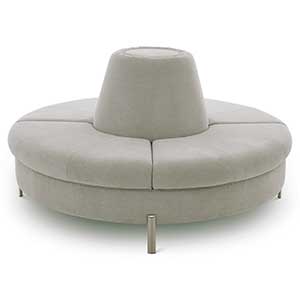 Introducing the Rowe
The Rowe Bourne Ottoman is a statement piece. The sleek contemporary design provides additional casual seating to many communal areas. Tailored piping and large centre button add subtle detailing to this modern piece.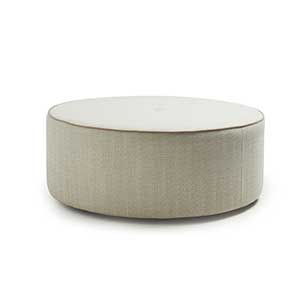 Tailored to your Specifications
All our furniture is handmade to order to our customer's specification. Our upholstered furniture is tailored in premium fabrics specified by our clients, so each of statement piece can be made to complement your design scheme and set the tone for the space.
View our range of upholstered furniture or contact our sales team for more details and to discuss your design brief and furniture requirements.